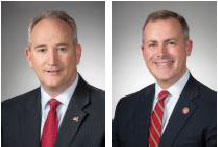 Keith Faber, State Auditor Watchdog For Ohio's Public Trust
Ohio's State Auditor Keith Faber discusses on this week's program the importance of the Auditor's office to keep local and county officials accountable for the public's trust as they handle your tax dollars. The Auditor stated that they currently have 140 criminal investigations underway of those who have violated their oath of office and have mishandled public money. Auditor Faber said - "see something, say something" with a quick link on his web page for citizens to report fraud. https://www.ohioauditor.gov/fraud/default.html  Share this with your friends and contacts. 
Part 2 - State Treasurer Robert Sprague shares with News in Focus the Family Forward Initiative, legislation that is soon to be introduced in the Ohio House that will provide low-interest loans to adopting families. Ohio Christian Alliance is in full support of this legislation and will be offering supporting testimony once it is introduced in committee.  
Share
|
Download(

Loading

)