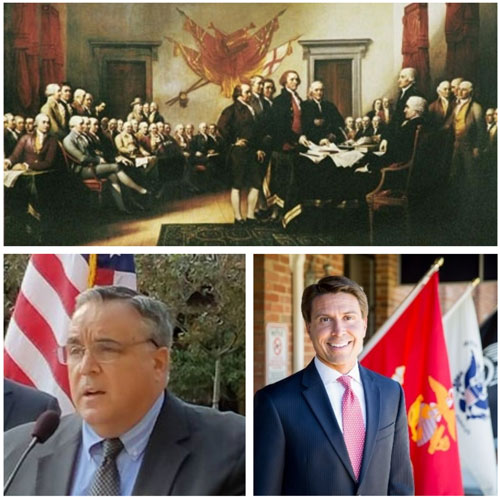 Reading The Declaration of Independence with Mayor Miller of Ashland Ohio
Jul 4th, 2020 by ohiochristianalliance
Reading The Declaration of Independence with Mayor Miller of Ashland Ohio
The fireworks are in the documents. We hold these truths to be self-evident, that all men are created equal, that they are endowed by their Creator with certain unalienable rights, that among these are life, liberty, and the pursuit of happiness. - Declaration of Independence 1776 Philadelphia, Pennsylvania Continental Congress.  These states united. 
Joining me on this week's broadcast is Matt Miller, Mayor of Ashland, Ohio, and this year's emcee at the Ohio Christian Alliance Freedom Banquet scheduled for Thursday, July 23rd at the Akron-Fairlawn Hilton. 
Encore Presentation: Ohio Speaker Householder Takes Action on Statehouse Destruction Caused by Protesting Vandals
Ohio House Speaker Larry Householder comes on News in Focus this week to address the extensive damage that took place at the Ohio Statehouse twice in the last three weeks - First on Thursday, May 28th when hundreds of rioters looted and ransacked downtown businesses and then turned toward the Ohio Statehouse, smashing windows, smashing in the front door, entering the building, and causing extensive damage. It was a frightening experience for the handful of Highway Patrol that was on duty that night. Teargas and other measures were used to drive the anarchist rioters from the Statehouse building. Fourteen individuals were arrested, but the City Prosecutor's office has since dropped all charges. Speaker Householder is incensed by these actions and by the lack of policing by Columbus City Police to protect the People's House. Speaker Householder announced that he will conduct hearings on the breach of security at the Ohio Statehouse, and stated that they have subpoena power to bring individuals before the committee to testify. OCA President Chris Long stated, "Finally somebody is taking some action. The security of the People's House is paramount to civil government."
Share
|
Download(

Loading

)