Episodes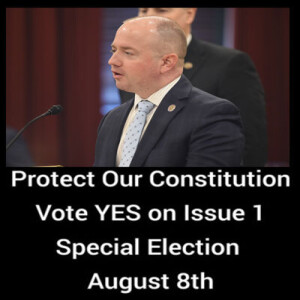 Wednesday May 24, 2023
Wednesday May 24, 2023
State Rep. Brian Stewart discusses the August 8th Special Election Issue 1
State Rep. Stewart was the sponsor of HJR 1, the constitutional amendment passage increase to 60 percent ballot resolution.  The Senate companion bill, SJR 2, is what actually passed both chambers to establish an August 8th Special Election and to place the constitutional amendment passage increase to 60 percent on the ballot for the voters to decide. Rep. Brian Stewart discusses why it is time to protect Ohio's Constitution from special interests and woke agendas. All eyes are on August 8th now, and it's Vote YES on Issue 1. 
Candidate Spotlight with U.S. Senate Candidate Bernie Moreno
In a surprise development, Special Counsel John Durham delivered his report on the Trump-Russia probe. The report was damaging to the FBI and the Justice Department for their role in continuing to falsify documents and advance the false narrative of the Russian Dossier that was paid for by the Hillary Clinton Campaign. U.S. Senate Candidate Cleveland businessman Bernie Moreno discusses the need for Washington to undergo a major reform, that these agencies have betrayed the American people's trust. He shares his vision and the issues that he is running on. The U.S. Senate race in Ohio is in 2024. Bernie Moreno is one of the first to declare his candidacy for the Republican Primary to challenge Democrat Sherrod Brown.